Research article
Open Access
Open Peer Review
This article has Open Peer Review reports available.
How does the media portray drinking water security in Indigenous communities in Canada? An analysis of Canadian newspaper coverage from 2000-2015
BMC Public Health
BMC series – open, inclusive and trusted
2017
17:282
Received: 26 April 2016
Accepted: 2 March 2017
Published: 27 March 2017
Abstract
Background
Drinking water insecurity and related health outcomes often disproportionately impact Indigenous communities internationally. Understanding media coverage of these water-related issues can provide insight into the ways in which public perceptions are shaped, with potential implications for decision-making and action. This study aimed to examine the extent, range, and nature of newspaper coverage of drinking water security in Canadian Indigenous communities.
Methods
Using ProQuest database, we systematically searched for and screened newspaper articles published from 2000 to 2015 from Canadian newspapers: Windspeaker, Toronto Star, The Globe and Mail, and National Post. We conducted descriptive quantitative analysis and thematic qualitative analysis on relevant articles to characterize framing and trends in coverage.
Results
A total of 1382 articles were returned in the search, of which 256 articles were identified as relevant. There was limited coverage of water challenges for Canadian Indigenous communities, especially for Métis (5%) and Inuit (3%) communities. Most stories focused on government responses to water-related issues, and less often covered preventative measures such as source water protection. Overall, Indigenous peoples were quoted the most often. Double-standards of water quality between Indigenous and non-Indigenous communities, along with conflict and cooperation efforts between stakeholders were emphasized in many articles.
Conclusion
Limited media coverage could undermine public and stakeholder interest in addressing water-related issues faced by many Canadian Indigenous communities.
Keywords
CanadaDrinking waterWater securityFirst NationIndigenousInuitMétisMediaNewspaperSystematic review
Background
With less than 0.5% of the world's population, Canada is fortunate to have 7% of the world's renewable fresh water [1]. Not all Canadians, however, have equitable access to safe drinking water [2]. For Indigenous peoples in Canada, safe drinking water often remains a challenge, despite federal, provincial, and territorial efforts to address water issues [3–6]. Indigenous peoples is a collective name for the original peoples of North America and their descendants. There are three constitutionally recognized groups of Indigenous peoples in Canada (First Nations, Métis, and Inuit) and all three groups are distinct from each other and have unique histories, languages, cultural practices, and spiritual beliefs. Indigenous communities tend to experience more drinking water security (e.g. access to sufficient and safe water) challenges than non-Indigenous communities in Canada [7, 8].
Water quantity concerns facing some Indigenous communities include challenges in obtaining enough safe water for consumption and basic hygiene. For example, in the Northwest Territories where Indigenous peoples represent 48% of the population, resource development and climate change place pressures on water resources [9]. Water quality has also been challenging for many First Nation [3, 4, 10], Inuit [11–13], and Métis [14, 15] communities. Drinking water advisories are issued when water quality is compromised, and these drinking water advisories are 2.5 times more frequent in First Nation communities compared to non-First Nation communities [5]. Advisories are intended to be a temporary measure to protect public health; however, many First Nation communities experience prolonged periods of drinking water advisories lasting an average of 343 days [16]. As of September 30, 2015, there were 138 drinking water advisories in effect in 94 First Nation communities across Canada [17]. In comparison, it was estimated that there were at least 1838 drinking-water advisories in effect in Canada at the beginning of 2015 [18]. In response to drinking water quality concerns, the Government of Canada commissioned an independent national risk assessment on First Nations water systems in 2011, which found that over 39% of First Nation water systems were "high risk," indicating that these water systems have major deficiencies and pose a high risk to the quality of water and to human health [19]. Climate change will only further threaten water security for many of these water systems [20]. Despite the Government commissioned assessment and approximately $3 billion invested in water and wastewater since 2006 [21], the challenge persists, with progress reports indicating that, despite improvements, 19% of First Nation water systems are still considered "high risk" [22].
These water quality challenges have important public health implications, resulting in many Canadian Indigenous populations identified as a group at increased risk of waterborne illness compared to Canadian non-Indigenous populations [2, 10, 13, 23, 24]. For instance, untreated water was a suspected source of Giardia infection accounting for 29% of notifiable gastrointestinal illness in the Northwest Territories [25]. Furthermore, about a third of residents of the Nunavik Inuit region consume untreated water, placing some Inuit at increased risk for waterborne gastroenteritis [26, 27]. Water quality challenges have also attracted widespread media coverage, including the discovery of Escherichia coli in the water supply in Kashechewan, Ontario, where the combination of flooding and contaminated water led to the evacuation of nearly half of the Kashechewan First Nation, illustrating the consequences of insufficient water infrastructure in some Indigenous communities [28, 29].
Water insecurity not only impacts physical health, but can also impact Indigenous peoples spiritual health [30]. For some Indigenous peoples, particularly some First Nation peoples, water has spiritual characteristics and is sometimes considered a spirit; as such, water is often considered sacred and can be important for healing and forming spiritual relationships [31, 32]. Furthermore, water supports Indigenous ways of life for many First Nation [4, 33], Inuit [34–36], and Métis people [15]. As Grand Chief B.G. Cheechoo, Chief of the Nishnawbe-Aski Nation, explains: "Our history is tied to these waters. Our continued reliance on fishing, trapping and hunting and our desire to do so is dependent on these waters. Our future is based on these waters… Any threat to such waters poses a direct threat to our survival" [33].
While research on water security in Indigenous communities is growing, there remains a deficit in studies examining risk perceptions of Indigenous water issues among Indigenous peoples and the general public [37, 38]. Examining risk perceptions can provide insight into understanding individual risk-averting behaviour and management strategy preferences [39–41]. Going further, risk perceptions [42, 43] and public understanding [44] of water-related issues can be shaped by media coverage. For instance, media can shape perceptions through "agenda setting" [45], which is the ability of the media to focus public attention on key topics (e.g. through the number of stories published on a topic) [46]. This focus on key topics, in turn, can influence which issues the public learns about and considers important and worthy of directing public resources towards solving.
Public perceptions are also influenced by the context in which issues are presented in the media [47]. For example, media can frame issues within the context of specific terms, events, or perspectives, through the process of selecting and emphasizing certain elements of a story, as well as the way characters and actors are portrayed [45, 48, 49]. Media coverage of Indigenous issues has been reported to be problematic, as Indigenous issues are often framed with a negative tone rather than a neutral tone – potentially leading the public to have an incomplete, or inadequate picture of the larger issues at play – or, the issues are excluded from media coverage all together [50]. This point has been further emphasized in the 94 Calls to Action put forward by the Truth and Reconciliation Commission of Canada (TRC) [51], with the final report calling on the media for continued, concerted, and "dedicated news coverage and online public information resources on issues of concern to [Indigenous] peoples" (84.3, p. 294). This Call to Action requires that the media take responsibility to ensure reporting of Indigenous peoples and issues in Canada is fair, representative, and non-discriminatory, and that journalists are informed and take responsibility for "learning about the history of [Indigenous] peoples and the issues that affect their lives" (86, p. 295) [51].
Although Indigenous peoples represent 4.3% of the Canadian population [52], water issues disproportionately impact Indigenous communities and these issues can be underrepresented in mainstream media [51]. Indeed, a recent study in 2013 found that news stories on Indigenous issues in Ontario, Canada amounted to 0.46% of all news stories, and had limited coverage of health or water issues [53]. Considering the lack of understanding of how Indigenous water issues are perceived, media's influence on perceptions, and the TRC's call for dedicated news coverage for Indigenous issues, the goal of our research is to better understand how media portray water security challenges in Indigenous communities. Specifically, the objectives are to examine the extent, range, and nature of newspaper coverage of drinking water security challenges in Canadian Indigenous communities. By examining newspaper coverage, we can begin to understand the ways in which public opinion and understanding of drinking water security challenges can be shaped, thus providing implications for decision-making and action in addressing water-related challenges, not only in Indigenous communities in Canada but also potentially other Indigenous peoples facing similar challenges globally.
Methods
Data sources and search strategy
The search was conducted using ProQuest database for news articles from four major news sources: Canada's only Indigenous newspaper,
Windspeaker
; Canada's two national newspapers,
The Globe and Mail
and
National Post
; and Canada's highest newspaper readership,
Toronto Star
[
54
]. News articles published from 1st January 2000 to 31st December 2015 were selected. Articles were selected from January 2000 onwards because of the increased public awareness of drinking water security challenges following the outbreak in Walkerton, Ontario (non-Indigenous community) in May 2000 where 7 people died and 2300 became ill, reflected by increased water-related news coverage [
44
]. Search terms used to search the ProQuest database are presented in Table
1
. All citations were imported into EPPI-Reviewer 4 (Eppi-Centre, London, UK), a systematic review software.
Table 1
Search strategy to identify news articles on drinking water security in Indigenous communities in Canada
Database

Search termsa

ProQuest

("drinking water" OR "tap water")

AND

("first nation*" OR aboriginal* OR nunavut OR "northwest territor*" OR NWT OR Yukon OR nunavik OR nunatsiavut OR amerind* OR inuit* OR inupiat* OR kalaallit* OR aleut* OR metis OR native* OR indian* OR eskimo* OR tribe* OR algonquian OR algonquin OR atikamekw OR blackfoot OR cree OR malecite OR mi'kmaq OR innu OR montagnais OR naskapi OR ojibway OR oji-cree OR michif OR athapaskan OR carrier OR wetsuweten OR chilcotin OR dene OR tlicho OR gwich'in OR slavey OR sarcee OR beaver OR sekani OR kaska OR tahltan OR tuchone OR haida OR iroquoian OR mohawk OR cayuga OR oneida OR kutenai OR salish OR shuswap OR thompson OR halkomelem OR lillooet OR okanagan OR squamish OR straits OR siouan OR dakota OR stoney OR tlingit OR tsimshian OR gitksan OR nisga'a OR wakashan OR nootka OR haisla OR heiltsuk OR kwakiutl OR wakashan OR inuktitut OR inuinnaqtun OR inuvialuktun)
Screening
A two-step relevance screening strategy was employed by two independent reviewers using EPPI-Reviewer 4. In the primary screening, titles and first paragraphs of news articles were screened for relevance. Articles deemed relevant (i.e. explicitly mentioned drinking water and Canadian Indigenous communities) then proceeded to the secondary screening, where the full-text of articles were again screened for relevance (i.e. explicitly mentioned drinking water in Indigenous communities in Canada). Reviewers met throughout the screening process to resolve any conflicts through discussion. To assess the reliability of the relevance screening protocols, an inter-rater reliability agreement, Cohen's Kappa coefficient, was calculated [55].
Data analysis
A hybrid deductive and inductive thematic analysis [56, 57] was conducted on the articles identified as relevant in the screening steps. The thematic analysis steps used in this study have been described previously [57]. A mixed-methods software, Dedoose version 6.1.11, was used to assist in data organization and retrieval. Descriptive statistical analyses of frequencies and trends were performed using Stata/IC 13.1.
Deductive qualitative analysis
A data extraction form was designed and divided into three sections (See Additional file
1
). The first section of the data extraction form was created a priori and captured general, descriptive information identified about each article. The second section of the form captured excerpts of text reflecting deductive concepts identified a priori [
56
,
57
] based on published literature, and included blame, climate change, government response to drinking water security challenges, drinking water infrastructure, regulatory framework, drinking water policy, source water protection or multi-barrier approach to safe drinking water, and Indigenous governance. Finally, each article was coded to capture how the story was framed, including the main focus, the emotional tone or valence [
58
], episodic or thematic frames used in coverage [
59
], and substantive or ambiguous content [
60
] (Table
2
).
Table 2
Coding type of frame of news articles for deductive qualitative analysis
Framing category

Sub-category

Description

Salient article examples

Focus

Water

Focus on water issues

Title: Many natives drinking unsafe water.

Example: "Walkerton made the news across Canada," the National Chief of the Assembly of First Nations said.

Source: The Globe and Mail May 5, 2001.

Other

Mentions water issues but focuses on other challenges

Title: Let the objections finally cease.

Example: No child can learn properly if the house she lives in is falling down, the family situation isn't stable and food and water are insufficient or unreliable.

Source: The Globe and Mail Mar 16, 2007.

Valence

Positive

Focus on solutions, or progress towards change

Title: Natives shouldn't have to boil their water.

Example: This government will ensure that community leaders have what they need to deliver clean water to their residents.

Source: National Post Mar 23, 2006.

Negative

Focus on problems, lack of action, or blame

Title: Natives deserve better.

Example: I'm absolutely disgusted to hear that tainted water continues to plague Canada's First Nations Reserves.

Source: National Post Oct 29, 2005.

Neutral

Neither a positive nor a negative valence

Title: Lessons from Kashechewan.

Example: In October, the story broke that the village's 1,900 Cree were drinking water polluted with E. coli.

Source: National Post Nov 21, 2005.

Episodic and thematic

Episodic

Focus on a specific event or topic, such as a waterborne outbreak or a new legislation

Title: Ontario evacuating reserve.

Example: Ontario's minister for Aboriginal Affairs, David Ramsay, said the province will evacuate more than half of the residents of Kashechewan First Nation after the reserve's water supply tested positive for E. coli.

Source: National Post Oct 26, 2005.

Thematic

Focus on a theme, such as drinking water issues in general

Title: Water on reserves a problem, group says.

Example: The drinking-water problems on Canada's native reserves need to be addressed immediately, a roundtable on the subject concluded yesterday.

Source: The Globe and Mail July 18, 2001.

Content

Substantive

Use specific information

Title: Clean water plan unveiled for reserves.

Example: 170 of 755 water treatment systems pose health hazards due to lack of training, maintenance and standards.

Source: Toronto Star Mar 22, 2006.

Ambiguous

Use vague information

Title: Reserve conditions worsening, overhaul needed, feds told.

Example: The report found education, housing, child welfare and access to safe drinking water remain major problems on First Nations reserves.

Source: Toronto Star Jun 10, 2011.
Inductive qualitative analysis
Through an inductive or 'bottom up' approach, the codes derived were data-driven and emerged from the information articled. We focused on analyzing information presented through quotations, including information about environmental issues, financial issues, health outcomes, and infrastructure or training issues (Table
3
). Data collected included the types of sources quoted, what sources said about the issue, and in what context. While the content of direct quotes were analysed, and the length of quotes was not considered in the data extraction.
Table 3
Data-driven codes derived from sources quoted for inductive qualitative analysis
Major issues discussed

Example of source(s) quoted

Salient article examples

Environmental

Non-Indigenous Politician

Title: Life on some reserves 'unacceptable', minister says.

Example: The living conditions on some Ontario first nation reserves, where contaminated land has forced several communities to close their local schools, are "offensive" and "unacceptable," Ontario Aboriginal Affairs Minister Michael Bryant said yesterday.

Source: The Globe and Mail Nov 16, 2007.

Financial

Elected Indigenous person (elected)

Title: Ottawa to give reserves $600-million.

Example: Mr. [Ken Young] said the two most pressing concerns he would like to see addressed tomorrow is money for housing and health care for First Nations - Ken Young Vice-Chief of Assembly of First Nations.

Source: National Post Feb 17, 2003.

Health outcomes

Indigenous person (non-elected)

Title: Indian reserves face threat from contaminated water.

Example: "Our children and our elders have suffered frequent illness including a recent outbreak of gastroenteritis," Chief Wilfred Wesley of Cat Lake Reserve.

Source: Toronto Star April 16, 2003.

Infrastructure or training

Academic

Title: Dirty water.

Example: "The boil water advisory is being used as an alternative to [water] treatment" Steve Hrudey of University of Alberta.

Source: National Post Apr 9, 2008.
Results
The initial search retrieved 1382 articles. After primary screening, 397 article's full-text were reviewed, and 256 articles were identified as relevant and retained for analysis (Fig.
1
). The primary screening and secondary screening by two independent reviewers achieved a kappa value of 0.64 and 0.67, respectively, indicating "substantial agreement" in coding between the two reviewers according to Landis and Koch's interpretations of kappa values [
55
]. The
Toronto Star
published the most articles (34%), followed by
The Globe and Mail
(31%),
National Post
(20%) and
Windspeaker
(15%) (Table
4
). Almost 15% of articles were published on the front page. The majority of stories published were news articles (75%), followed by editorials (11%), opinion/column (9%), and letters to editor (5%). Articles were mainly authored by journalists (87%), and scientific evidence (i.e. reference to a report or study) was provided in 83 articles (32%). Coverage focused primarily on issues in First Nations communities (92% of all articles), and some articles used the umbrella term "Aboriginal" to describe challenges among all Indigenous groups (10%). Very few articles covered issues specific to Inuit (3%) and Métis (5%) communities.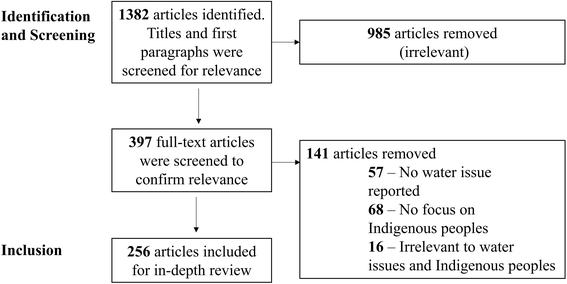 Table 4
Descriptive information extracted from Canadian news articles on Indigenous drinking water security from 2000-2015
Description

n (% of articles in sample)

Newspaper

 Toronto Star

88 (34)

 The Globe and Mail

79 (31)

 National Post

52 (20)

 Windspeaker

38 (15)

Word count

 1-250

37 (14)

 251-500

73 (28)

 501-1000

125 (49)

 1001+

22 (9)

Article type

 News

192 (75)

 Editorial

29 (11)

 Opinion or column

23 (9)

 Letter to editor

13 (5)

Author

 Journalist

223 (87)

 Other

34 (13)
Discussion
News coverage of water security challenges in Indigenous communities in Canada from 2000-2015 were examined in this study. Over the 16-year study period, 256 news stories appeared in four prominent newspapers (Toronto Star, The Globe and Mail, National Post, and Windspeaker). When our results are compared to other studies, our results suggest limited coverage compared to non-Indigenous water challenges; for example, while we found 131 articles in The Globe and Mail and the National Post over 16 years spanning First Nations, Inuit, and Métis communities across the country, news coverage of the Walkerton water crisis was covered in 652 news stories in the same newspapers over two years [44]. Indeed, a recent study also found that Indigenous populations in Canada are widely underrepresented in mainstream media [53] and, within this coverage, Inuit and Métis water challenges received even less coverage. This finding may be explained by the lack of publically available and accessible data on boil water advisories experienced by Inuit and Métis communities compared to First Nations communities, where boil water advisories are compiled and provided on a monthly basis on Health Canada's website [75]. Going further, there is a lack of peer-reviewed literature on Inuit or Métis water-related health issues [13, 76–78], reflecting the lack of data collected on Inuit or Métis health issues in general [8]. It is recommended that water and health issues in Inuit and Métis communities are studied further, and regularly compiled and reported to the public.
Government representatives and Indigenous peoples were the primary sources quoted, with both often portraying drinking water quality as 'shameful', given that some First Nation communities have been under boil-water advisories for years. Literature have also reflected conditions on First Nation reserves as 'unacceptable' [79, 80]. From 2000 to 2015, the number of Indigenous peoples quoted increased, perhaps due to the cumulative impacts of persistent drinking water issues and boil-water advisories [17]. However, the number of quotes alone may not be an adequate indicator of representation of voice in the media. In future studies, considering the length of quotes could provide information on the extent of contextual background information provided, and thus insights into voice representation [81].
Coverage appeared low except for in 2001 and 2005 when news coverage slightly increased due to large waterborne disease outbreak in North Battleford, Saskatchewan (April 2001) and substantially increased in response to water crisis in Kashechewan, Ontario (October-November 2005) (Fig. 5). From this trend, it appeared that media coverage was prominent during and immediately after a water contamination event, but was not well covered before the event despite the chronic and on-going water security challenges in many communities. Further, despite the importance of preventative measures for safe drinking water, such as multi-barrier protection [82], or source water protection [5], these preventative measures were rarely reported in news articles. As such, news coverage focused more on responses and recovery rather than prevention and mitigation. This finding is supported by a recent media analysis of Canadian Indigenous issues, that found government responses generally followed after concerns were voiced or crises were experienced, rather than before such incidents [53]. The low coverage on prevention and high focus on responses could be explained by media's interest in government actions and agendas [83, 84], and is consistent with other studies where coverage on government responses was high, for example during the Walkerton, Ontario water crisis [44]. Considering preventative measures have potential to improve drinking water quality for Indigenous communities in Canada [5], future media messaging with the help of public health practitioners and water stakeholders, could focus more on prevention and mitigation to protect water security in Indigenous communities.
The Kashechewan, Ontario water crisis in 2005, a short-term event, gained substantial coverage compared to communities experiencing long-term boil water advisories, consistent with studies where novel risks experienced over a short time frame generally had higher coverage than longer term risks [85]. However, it is important to note that water issues in Kashechewan are ongoing; for example, Kashechewan recently experienced floods leading to the evacuation of some of its residents in 2014 and 2015 [86]. With limited media coverage on Indigenous water security, except during a large outbreak, smaller or chronic waterborne outbreaks may be overlooked by politicians, decision makers, and the general public. To overcome this challenge, public health providers and practitioners may play an important leadership role in developing media relationships to promote coverage of communities with long-term drinking water issues [83, 87].
Most articles focused on government responses to Indigenous water security challenges, and in particular, focused on inadequate government spending and action. The lack of government funding available to address Indigenous water security challenges [82, 88, 89], along with the history of water-related government actions [82, 89], have been reported in peer-reviewed literature. While progress was made in improving safe drinking water provision in high risk communities [90], the emphasis on government responses surrounding inadequate funding and action, along with the persistence of drinking water issues [75], suggest a call for further government support and action.
Governance challenges reported in the articles reviewed included: drinking water policy challenges; infrastructure challenges including technical and financial; and regulatory framework challenges. Among articles that focused on drinking water policy challenges, articles discussed the lack of legally enforceable Federal safe drinking water standards on reserves [91], along with the complicated policy framework currently in place [88]. Articles that focused on infrastructure challenges primarily discussed challenges with water treatment infrastructure, the lack of local operator training, and the lack of financial support, consistent with challenges reported in literature [88, 92]. News coverage on regulatory framework challenges mainly focused on the complicated jurisdictional issues regarding water on First Nations reserves [6, 89, 93], highlighting the difficulties when the responsibility for water quality on reserves is shared between First Nations councils and the Federal government [89] and provincial governments are responsible for regulating and enforcing legislation and policies relating to municipal water systems.
Disproportionate government efforts in addressing water security challenges between Indigenous and non-Indigenous communities was emphasized in news articles. For example, a large waterborne disease outbreak occurred in Canada (Walkerton, Ontario in May-June 2000). This event brought considerable media coverage and attention to water quality issues in Canada, and led to policy changes, new regulations (e.g. Safe Drinking Water Act, 2002), and public inquiries to address such issues at Provincial, Territorial, and Federal scales within two years after the outbreak [94, 95]. These new policies, however, do not apply to, and do not jurisdictionally impact, First Nation reserves [96]. The Safe Drinking Water for First Nations Act was introduced in 2013 [97], eight years after the 2005 Kashechewan water crisis and other ongoing water issues. This delayed action suggests the "double standard" that Indigenous peoples emphasized in news articles, which may be responsible for the differences in water security experienced among different groups across the Nation [82].
Indigenous water security was largely covered using a neutral or a negative emotional tone, consistent with negative tone framing for other environmental issues such as natural disasters [83] and climate change [98]. Articles with negative tones focused on government responses to Indigenous water security challenges, specifically on inadequate government spending or action. Articles with a positive tone focused on solutions such as introducing new government budgets, perhaps for the purpose of advancing and/or supporting political agendas [84]. It is likely that the media representation of drinking water will affect the way that actions are taken. The high negative coverage of articles on inadequate government responses is likely to promote this negative image to the public, and the public may be aware that drinking water is problematic and requires government responses to mitigate this problem. Articles also represented a nearly equal balance of episodic and thematic frames. Past research suggested that episodic frames tend to present events as isolated incidents, and in the absence of the broader context, can lead to shallower understanding of political and social issues [59, 99]. Coverage using thematic framing generally reflected the chronic Indigenous water security issues. Research suggests that thematic frames generally help readers view a topic as an ongoing issue, rather than a one-time event, and are more likely to cause people to see an issue as a shared responsibility [59]. As both frames were represented, readers would likely expect some action taken by decision-makers to address Indigenous water security challenges.
Additionally, the themes of conflict and cooperation emerged prominently throughout the analysis. Jurisdictional conflicts surrounding drinking water exist [6, 96], and cooperation and collaboration among Indigenous groups, Federal government agencies, and provincial governments have been acknowledged as essential for moving forward with drinking water safety [82, 96]. Many factors contributed to the rise in tension, in particular, the Kashechewan water crisis, as well as the chronic boil water advisories in many First Nation communities. Articles often leaned towards conflict likely to draw readers, consistent with other studies where conflict frames were prominent in media coverage of environmental issues such as climate change [43, 100, 101]. Interestingly, climate change framing was absent in news articles, despite the impact of climate change on water security [12, 13, 102]. It is recommended that news articles begin to discuss water issues in the context of climate change.
This study provided a comprehensive and systematic review, however, there are several important study limitations. While "substantial agreement" in relevance screening was achieved, the reviewers faced some difficulties as many articles had only vague reference to water issues. This study also did not examine other media that might also be influential in shaping public perceptions such as radio or television; however, we reported on a selection of Canadian newspapers with the highest circulation figures, along with the Windspeaker (leading Indigenous news source in Canada), which likely provided a good reflection of overall news coverage in Canada from 2000-2015. Coverage in non-Indigenous communities was also not examined; as such, direct comparisons between water security coverage in Indigenous and non-Indigenous communities were not possible, but may have provided more insight into the equity of coverage between groups. Although our results suggest that Indigenous water security issues are under-represented in the media, further research with non-Indigenous comparison groups should be conducted to test this hypothesis. We also analyzed framing in coverage and key themes but we do not know how this information is received and interpreted by different audiences. Further research is needed to determine how coverage compares between Indigenous and non-Indigenous communities in Canada; how coverage differs from other sources of media; and how decision-makers and the general public perceive water security challenges covered by the media.
Conclusion
Any combination of media attention, public inquiry, and new legislation can be expected when water security issues emerge, as in the case of the Walkerton, Ontario water crisis; however, the same level and timeliness of response was absent for Indigenous communities, as in the case of Kashechewan, Ontario water crisis. This research indicates that coverage of Indigenous water security over the 16-year time period appeared to be limited and inequitable. Furthermore, there was also very limited coverage of water security in Inuit or Métis communities, with coverage focusing mainly on responses to water quality issues rather than prevention and mitigation. In a post-Truth & Reconciliation Commission era, this inequitable and inadequate coverage is simply not acceptable, and we support the TRC's (2015) recommendations for action that call on the media to have continued, dedicated, and equitable news coverage on issues of concern to Indigenous peoples – and indeed, all Canadians – moving forward (84.3), and to develop resources and strategies that can inform and educate the public (85.2). Closing the media reporting gap can be a positive step towards closing the water security gap and related health outcomes between Canadian communities.
Abbreviations
INAC:

Indigenous and Northern Affairs Canada
TRC:

Truth and Reconciliation Commission of Canada
Declarations
Acknowledgements
The authors would like to thank Ms. Carlee Wright for her role as the secondary reviewer and Dr. Daleen Loest for her help with some data extraction. Thank you to ArcticNet for funding support.
Funding
This research was funded by ArcticNet to SLH. The funder had no role in study design, and collection, analysis, interpretation of data and in writing the manuscript.
Availability of data and materials
Not applicable.
Authors' contributions
SL conceptualized the study, designed the search strategy, screened for articles, extracted and analyzed the data, and drafted the manuscript. AS extracted and analyzed the data, and contributed to drafting the manuscript. AC and SLH gave important contributions for interpretation of data and drafting of the manuscript. JF contributed to interpretation of data and manuscript editing. SLH conceptualized and coordinated the study. All authors read and approved the final manuscript.
Competing interests
The authors declare that they have no competing interests.
Consent for publication
Not applicable.
Ethics approval and consent to participate
Not applicable.
Publisher's Note
Springer Nature remains neutral with regard to jurisdictional claims in published maps and institutional affiliations.
Open AccessThis article is distributed under the terms of the Creative Commons Attribution 4.0 International License (http://creativecommons.org/licenses/by/4.0/), which permits unrestricted use, distribution, and reproduction in any medium, provided you give appropriate credit to the original author(s) and the source, provide a link to the Creative Commons license, and indicate if changes were made. The Creative Commons Public Domain Dedication waiver (http://creativecommons.org/publicdomain/zero/1.0/) applies to the data made available in this article, unless otherwise stated.
Authors' Affiliations
(1)
Department of Population Medicine, University of Guelph, Guelph, Canada
(2)
Labrador Institute of Memorial University, Happy Valley-Goose Bay, Canada
(3)
Department of Geography, McGill University, Montreal, Canada