Research article

Open Access

Open Peer Review
This article has Open Peer Review reports available.
Generic health literacy measurement instruments for children and adolescents: a systematic review of the literature
BMC Public Health
BMC series – open, inclusive and trusted
2018
18:166
Received: 21 December 2016
Accepted: 10 January 2018
Published: 22 January 2018
Abstract
Background
Health literacy is an important health promotion concern and recently children and adolescents have been the focus of increased academic attention. To assess the health literacy of this population, researchers have been focussing on developing instruments to measure their health literacy. Compared to the wider availability of instruments for adults, only a few tools are known for younger age groups. The objective of this study is to systematically review the field of generic child and adolescent health literacy measurement instruments that are currently available.
Method
A systematic literature search was undertaken in five databases (PubMed, CINAHL, PsycNET, ERIC, and FIS) on articles published between January 1990 and July 2015, addressing children and adolescents ≤18 years old. Eligible articles were analysed, data was extracted, and synthesised according to review objectives.
Results
Fifteen generic health literacy measurement instruments for children and adolescents were identified. All, except two, are self-administered instruments. Seven are objective measures (performance-based tests), seven are subjective measures (self-reporting), and one uses a mixed-method measurement. Most instruments applied a broad and multidimensional understanding of health literacy. The instruments were developed in eight different countries, with most tools originating in the United States (n = 6). Among the instruments, 31 different components related to health literacy were identified. Accordingly, the studies exhibit a variety of implicit or explicit conceptual and operational definitions, and most instruments have been used in schools and other educational contexts. While the youngest age group studied was 7-year-old children within a parent-child study, there is only one instrument specifically designed for primary school children and none for early years.
Conclusions
Despite the reported paucity of health literacy research involving children and adolescents, an unexpected number of health literacy measurement studies in children's populations was found. Most instruments tend to measure their own specific understanding of health literacy and not all provide sufficient conceptual information. To advance health literacy instruments, a much more standardised approach is necessary including improved reporting on the development and validation processes. Further research is required to improve health literacy instruments for children and adolescents and to provide knowledge to inform effective interventions.
Keywords
Health literacy
Measurement
Assessment
Instrument
Children
Adolescents
Literature review
Background
Health literacy is currently experiencing increased attention in contemporary research, practice, and policy [1–7]. In health promotion, health literacy is understood to be an empowering resource for individuals, related to education and linked to literacy. It comprises the skills, knowledge, and motivation to access, understand, and appraise health-related information in order to apply informed health decisions in everyday life [1]. Although health literacy remains content specific, contextual factors impact on the practice of health literacy as well, and health literacy should ideally improve individual health behaviour [8]. In addition, health literacy is a double-sided concept that encompasses individual capabilities as well as system demands and complexities, which influence health behaviours and health-related interactions [9, 10].
Current research links limited health literacy to a lack of health knowledge, poor disease management skills, medication treatment errors, inadequate health communication skills, difficulties in navigating the healthcare system, poor access to healthcare services, increased healthcare costs, and poorer health outcomes [11]. In Europe, the European Health Literacy study (HLS-EU) conducted in eight countries found that an average of 47% of all respondents had limited health literacy [10]. Most of these studies were conducted among adults, and comparatively, the scientific literature on child and adolescent health literacy lacks evidence. Although health literacy is rooted in school health education aimed at improving children's health literacy [12], children and adolescents have been given little attention in health literacy studies in past decades [13–16]. This contradicts with the importance given to childhood and adolescence for the development of health skills, health-related knowledge, and healthy behaviours and practices [17–19].
Many scholars argue, in accordance with findings from developmental research, that effective health literacy development begins in early childhood [13, 20, 21] and that schools are viewed as major settings for early health literacy promotion [22–24]. Recently, there have been some remarkable efforts towards performing research with younger age groups [14, 25–30]. Interestingly, due to the growing attention paid to children and adolescents for health literacy development, health literacy promotion in early childhood has been exclusively included in a policy brief of the World Health Organization (WHO) on investing in health literacy in the European Region [6] and in their recently published Shanghai declaration on health promotion [7].
To identify the needs of children and adolescents and to address specific target areas for action, validated and reliable measurement instruments to assess health literacy are crucial [5, 26, 27]. Although over a hundred instruments measuring either specific or generic health literacy in adults have been identified in several systematic and/or scoping reviews [4, 31–37], to date there is only one systematic review on child and adolescent measurement tools [38]. This review identified 16 tools comprising both generic and specific health literacy instruments developed between 2007 and 2011 with mixed results suggesting that available tools are not adequately measuring and depicting health literacy. Furthermore, the authors of that review suggest that future research regarding concepts and measurements should shift away from a healthcare perspective to a health promotion and education perspective instead. Another potential criticism arises from the fact that each instrument uses its own specific understanding of health literacy, which makes it difficult to compare results across studies.
This present systematic review, therefore, aims to identify, retrieve, analyse, and assess available generic health literacy measurement instruments for children and adolescents ≤18 years old. To specifically and exclusively focus on generic health literacy tools only, measurement tools for domain-specific health literacies, such as mental health literacy, oral health literacy, eHealth literacy, and media health literacy, were excluded from this study. In this review specific attention will be paid to the following:
a)

instrument characteristics;

b)

country of origin and setting;

c)

d)

questionnaire administration mode;

e)

participant participation in the development process of the questionnaires;

f)

g)

h)

underlying health literacy models/definitions; and

i)

scope of measured components.
This systematic literature review was conducted as part of the MoMChild project (Methods of Measuring Health Literacy in Children), which is part of the German Health Literacy in Childhood and Adolescence Research Consortium (HLCA).
Method
The research team conducted a systematic review of the literature on health literacy measurement instruments for children and adolescents ≤18 years old. To ensure transparency and completeness of the research and to improve the reporting of this review, the 27-item checklist of the Preferred Reporting Items for Systematic reviews and Meta-Analyses (PRISMA statement) was adopted and included in the supplementary information files of this article. The PRISMA flow diagram (see Fig.
1
) illustrates the inclusion and exclusion process [
39
].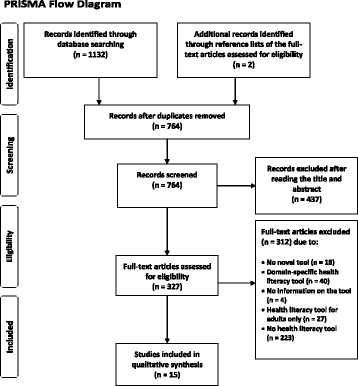 Data sources, search strategy, and study selection
Three researchers (OO, MM, PP) developed the search strategy/method and algorithm. Two researchers (OO, EL) independently searched the databases using identical search algorithms for the respective databases and analysed the data. Three researchers (TMB, MM, JB) checked the initial results, and five researchers (OO, TMB, MM, JB, PP) critically discussed the search outcomes.
Data sources
The search was performed in five databases: Medline via PubMed, the Cumulative Index to Nursing and Allied Health Literature (CINAHL) via EBSCOhost, the American Psychological Association (APA) PsycNET search platform, the Educational Resources Information Center (ERIC), and the German Fachinformationssystem Bildung (FIS).
Search strategy
The five abovementioned databases were initially searched from May – July 2015 using a composite search term that comprised a combination of three terms for papers published between January 1990 and July 2015. To combine search terms Boolean operators (AND/OR) were used. Wildcard characters were used in order to cover all spelling variations of the search terms. The first search term was "health literacy", the second addressed the target population ("child*", "adolescen*", or "youth"), and the third term focused on either one of ten common terms/topics in the context of measurement tools ("measur*", "test*", "tool*", "instrument*", "questionnaire*", "assessment*", "screen*", "survey*", "psychometric*", and "review*"). In the FIS, the search terms "Gesundheitsbildung" and "Gesundheitskompetenz" were used. Additionally, reference lists of included full-text articles were searched manually (OO) for potentially relevant publications. The following algorithm has been used in PubMed, while the search strategy used in PubMed was adapted to the specifications of the other four databases (see Additional files 1 and 2).
((health literacy[Title/Abstract]) AND ((child*[Title/Abstract]) OR (adolescen*[Title/Abstract]) OR (youth[Title/Abstract])) AND ((measur*[Title/Abstract]) OR (test*[Title/Abstract]) OR (tool*[Title/Abstract]) OR (instrument*[Title/Abstract]) OR (questionnaire*[Title/Abstract]) OR (assessment*[Title/Abstract]) OR (screen*[Title/Abstract]) OR (survey*[Title/Abstract]) OR (psychometric*[Title/Abstract]) OR (review*[Title/Abstract])))
Study selection
For the purposes of this search, the following inclusion criteria were used (see Table
1
): (a) time of publication between January 1990 and July 2015 (as the first health literacy tool was introduced in the early 1990s); (b) English or German language; (c) original publication describing the first use of a health literacy instrument; (d) a study population of children and/or adolescents or at least including these; (e) any setting, i.e., healthcare, schools or other; and (f) any country.
Table 1
Inclusion and exclusion criteria
| Criterion | Inclusion | Exclusion |
| --- | --- | --- |
| Time | January 1990 – July 2015 | Studies before 1990 and after July 2015 |
| Language | English, German | Any other language |
| Type of publication | Original papers published in peer-reviewed journals, or reports | Any non-original publication, any editorials, letters to editors, theses, books |
| Focus of study | Any study reporting on a generic health literacy instrument, its first-time use, development or validation process | Any study reporting on a domain-specific health literacy instrument (i.e. mental health literacy, media or eHealth literacy), and any non-health literacy instrument |
| Study population | Articles including children and adolescents ≤18 years | Any population older > 18 years |
| Setting | Any setting | Nil |
| Country | Any country | Nil |
Screening, data extraction, and analysis
Five researchers (OO, EL, TMB, MM, JB) participated in the screening process. Screening took place in two steps: (1) title/abstract screening was performed by two researchers (OO, EL) independently, and (2) full-text analysis of the eligible publications was performed by three researchers (OO, EL, MM). Two researchers (TMB, JB) checked the results independently. To find consensus and validate the findings, expert consultations were performed by approaching the other authors (DB, EB, GSC, KS, LSN, DLZ, DS, UHB, JP, MT, UB, PP). Literature was imported to the reference management software CITAVI 5. The characteristics of the health literacy measurement instruments identified in the relevant publications were analysed and extracted by two researchers independently (OO, EL) based on the objectives of this review. The decision on what data to extract from the articles was based partly on (a) former systematic reviews of health literacy measurement tools [4, 38] and (b) an extensive discussion and consensus among the authors of this review and with further health literacy experts from the HLCA research consortium. If information on the validity and reliability of instruments was documented within the articles, these data were extracted and analysed as well.
Results
This review focused exclusively on generic health literacy measures. The search process identified N = 1132 publications matching the search criteria (PubMed n = 291, CINHAL n = 201, PsycNET n = 357, ERIC n = 226, FIS n = 57). The manual search led to the identification of an additional n = 2 articles (see Fig. 1: PRISMA flow diagram). After removing duplicates, n = 764 articles remained, of which a further n = 437 articles were excluded after screening the titles and abstracts. A total of n = 327 articles underwent full-text analysis. Finally, all articles not matching the inclusion criteria (n = 312) were excluded from qualitative synthesis yielding N = 15 articles reporting 15 different questionnaires.
Discussion
The main objective of this review was to systematically identify, retrieve, analyse, and assess available generic health literacy measurement tools for children and adolescents ≤18 years old. Despite the gap in health literacy research on children and adolescents, our search found 15 available generic measurement tools published between 1990 and 2015. This is the second known systematic review on health literacy measurement tools for children and adolescents. The previous one was conducted by Ormshaw et al. [38] and considered tools published until 2011. By encompassing domain-specific health literacy measures as well, their review had a somewhat different focus than this present review. Ormshaw et al. identified 16 tools for children and/or adolescents, including tools for measuring mental health literacy, media health literacy, or oral/dental health literacy. It should also be noted that their review included studies using the same instrument, for example, TOFHLAd and questions based on the National Health Education Standards (NHES, USA), whereas the present review includes an instrument only once. Therefore, the present study only has six instruments in common with that review [40, 41, 43, 44, 48, 51].
Conclusion
This article sought to systematically review the field of children's and adolescents' generic health literacy measurement instruments and provides a detailed analysis of these instruments. Health literacy research with younger age groups is a growing field. However, methodological approaches require further improvement. In terms of conceptual and operational definitions, it seems that instrument development first needs a clear conceptual understanding of health literacy that should be transferable to an operational definition that covers all aspects of that understanding [33]. This is supported by findings presented in this review, and similar observations on theoretical definitions not matching the operational definition have been made [37, 47, 85, 92]. Furthermore, given the lack of a specific and explicit health literacy definition and/or if the understanding is vaguely based on different definitions and models, it is far more difficult to understand how the conceptual model has been operationalised. To date, there is scarce data for constructing an effective blueprint for health literacy measurement instruments. Furthermore, there is currently a specific gap regarding health literacy measurement instruments aimed at primary school and early childhood-aged children. From a methodological perspective, when health literacy instrument studies are designed, especially for children, they should consider a mixed-method approach combining both subjective and objective measurement approaches. This would allow for the comparison of results and would secure the validity and reliability of the instruments. Although there are currently no findings from general health literacy research with children that specifically articulate the involvement of children in the development of measurement tools, research with children conducted in other disciplines shows the benefits of children's involvement. Children's meaningful involvement in health literacy research could be as beneficial as it is currently in dental health and mental health research. It could, for example, enlighten researchers in terms of a better understanding of children's views, interests, perceptions, feelings, interactions, and worlds, which then could be used to develop models and measurement tools that are better suited to children. Furthermore, recent studies highlight the importance of meeting the specific health literacy needs of children and adolescents [5, 20, 28]. This includes development of materials and information that are suited to younger age groups and provided in ways that engage and empower them or improve uptake [5, 26, 27]. This may well foster an improvement in the development of health literacy throughout life, beginning in early childhood.
Currently, the valid measurement and assessment of child and adolescent heath literacy are gaining importance in terms of monitoring and evaluating the effects of health literacy promotion in children and adolescents. In accordance with this, many scholars have recently called for advancing health literacy measurement [33, 85, 86, 92, 93], including child-specific instruments [26, 38]. With this work, the authors hope to stimulate further scientific research and action, especially concerning health literacy measurement development as well as intervention and policy development. The results of this review will be of value and considerable interest to researchers and practitioners interested in health literacy measurement as it explains which instruments already exist and how they were developed, applied, tested, and validated.
Declarations
Acknowledgments
The authors thank all researchers at the Centre for Prevention for Intervention in Childhood and Adolescence (CPI) at Bielefeld University and all partners in the HLCA consortium for contributing to the discussion of the results and the content of this article. CPI can be found online at: www.uni-bielefeld.de/(en)/zpi; HLCA can be found online at: www.hlca-consortium.com.
Funding
The HLCA consortium is funded by the Federal Ministry of Education and Research (BMBF) from March 2015–February 2018. Funding code: 01EL1424A.
Availability of data and materials
All data generated or analysed during this study are included in this published article [and its supplementary information files].
Authors' contributions
Background: OO, EL, MM, UB, PP. Methodology: OO, MM, EL, TMB, JB, PP. Results: OO, MM, EL, TMB, JB, DB, EB, GSC, KS, LSN, DLZ, DS, UHB, JP, MT, UB, PP. Discussion: OO, MM, EL, TMB, JB, DB, EB, GSC, KS, LSN, DLZ, DS, UHB, JP, MT, UB, PP. Conclusion: OO, MM, TMB, JB, UB, PP. We hereby declare that all authors actively participated in this systematic literature review and approved the final manuscript. Each made substantial contributions to conception and design as well as interpretation of data. The authors further have been actively involved by reviewing and supporting the drafting process. Therefore, each author takes public responsibility for appropriate portions of the content. All authors read and approved the final manuscript.
Ethics approval and consent to participate
Not applicable.
Consent for publication
Not applicable.
Competing interests
The authors are active members of the German National Health Literacy in Childhood and Adolescence Research Consortium (HLCA) and declare to have no competing interests.
Publisher's Note
Springer Nature remains neutral with regard to jurisdictional claims in published maps and institutional affiliations.
Open AccessThis article is distributed under the terms of the Creative Commons Attribution 4.0 International License (http://creativecommons.org/licenses/by/4.0/), which permits unrestricted use, distribution, and reproduction in any medium, provided you give appropriate credit to the original author(s) and the source, provide a link to the Creative Commons license, and indicate if changes were made. The Creative Commons Public Domain Dedication waiver (http://creativecommons.org/publicdomain/zero/1.0/) applies to the data made available in this article, unless otherwise stated.
Authors' Affiliations
(1)
Faculty of Educational Science, Centre for Prevention and Intervention in Childhood and Adolescents (CPI), Bielefeld University, Bielefeld, Germany
(2)
School of Public Health, Public Health Nursing & Health Science Research, Bielefeld University, Bielefeld, Germany
(3)
University of Suffolk, Ipswich, UK
(4)
CIEC, Institute of Education, University of Minho, Braga, Portugal
(5)
Global Health Literacy Academy, Urmond, The Netherlands
(6)
CIESP, National School of Public Health, ISAMB (FMUL), Universidade NOVA de Lisboa, Lisbon, Portugal
(7)
School of Public Health, University of Haifa, Haifa, Israel
(8)
School of Education, University of Applied Sciences and Arts, Basel, Switzerland
(9)
University of Education, Freiburg, Germany
(10)
Austria & Institute for Public Health, University of Vienna, Vienna, Austria
(11)
School of Education, Aberystwyth University, Aberystwyth, Wales
(12)
Clalit Health Services, Department of Health Education and Promotion, Tel Aviv, Israel