Research article

Open Access

Open Peer Review
This article has Open Peer Review reports available.
Are pit latrines in urban areas of Sub-Saharan Africa performing? A review of usage, filling, insects and odour nuisances
BMC Public Health
BMC series – open, inclusive and trusted
2016
16:120
Received: 22 September 2015
Accepted: 22 January 2016
Published: 4 February 2016
Abstract
Background
A pit latrine is the most basic form of improved sanitation which is currently used by a number of people around the globe. In spite of the wide spread use, known successes and advantages associated with pit latrines, they have received little attention in form of research and development. This review focuses on the usage and performance (filling, smell and insect nuisance) of pit latrines in urban areas of sub-Saharan Africa (SSA) and proposes approaches for their improvements and sustainability.
Methods
Current pit latrine usage within urban SSA was calculated from Joint Monitoring Programme (JMP) water and sanitation country-files. We conducted a literature search and review of documents on pit latrine usage, filling, smell and insect nuisances in urban areas of SSA. Findings of the review are presented and discussed in this paper.
Results and Discussion
Pit latrines are in use by more than half the urban population in SSA and especially among low income earners. An additional 36 million people in urban areas of SSA have adopted the pit latrine since 2007. However, their performance is unsatisfactory. Available literature shows that contributions have been made to address shortfalls related to pit latrine use in terms of science and technological innovations. However, further research is still needed.
Conclusion
Any technology and process management innovations to pit latrines should involve scientifically guided approaches. In addition, development, dissemination and enforcement of minimum pit latrine design standards are important while the importance of hygienic latrines should also be emphasized.
Keywords
Filling
Insects
Pit latrine
Smell
Sub- Saharan Africa usage
Background
Globally, providing adequate sanitation is a challenge and the situation is worse in developing countries. Improved sanitation protects the environment and improves people's health, thereby translating into socio-economic development and poverty eradication [1–3]. Access to improved sanitation worldwide stands at 64 %, with the lowest coverage of 41 % in urban areas of Sub-Saharan Africa (SSA) [4].
Sanitation provision in urban areas of SSA is predominantly on-site [5]. A number of technologies are currently in use, each of varying affordability, suitability, adaptability and user satisfaction. These technologies include septic tanks, aqua privies, biogas latrines, composting or dehydrating toilets and pit latrines. The use of septic tanks in SSA currently stands at only 5 % of the population [6]. Challenges with the use of septic tanks are mainly high construction costs, space limitations, lack of water and blockages that result from use of bulk materials for anal cleansing. The performance of aqua privies in SSA has been unsatisfactory. In Ghana, where the aqua privy was once widely used, it is now considered a failed technology at a national level. The uncontrolled odours [7], social/cultural issues and water shortages led to the abandonment of the aqua privy technology [8] in Ghana.
Biogas latrines have been installed as communal/public facilities in some areas of SSA [9, 10]. Their initial cost and operational skill requirements are beyond household level applications. Further, insufficient biogas to meet cooking requirements, gas leakage and the cultural issues with end-use of the slurry have hindered their adoption at household level. Replication or up-scaling composting or dehydrating toilets in SSA has registered varying levels of success. In east and southern Africa, cultural acceptance and misuse of the facilities have been cited as challenges to their use [11]. In Ghana, failure of the Enviroloo, a type of composting toilet was caused by lack of readily available spare parts for repairing fans that were located on top of their chimney pipes [7]. The success and failure attributes of the different sanitation technologies used in Sub-Saharan Africa are summarised in Additional file 1: Table S1.
Pit latrines still remain widely used and are the commonest basic form of improved sanitation [2]. Of the 2.7 billion people using on-site sanitation worldwide [6], an estimated 1.77 billion use some form of pit latrine as their primary means of excreta disposal [12]. Low-cost, simplicity of construction, little or no water usage, and ease in operation and maintenance, the ability to cope with bulky varied anal cleansing materials and the ease for regular improvement of the facility makes it convenient and easily taken up. The pit latrine technology currently offers a number of options ranging from simple designs like the traditional (without concrete slabs) to the simple improved, and further to more advanced Ventilated Improved (VIP), Reed Odourless Earth Closet (ROEC), pour flush and borehole pit latrines. However, the use of pit latrines in urban areas of SSA has been marred by poor performance in terms of fast filling, bad smells and insect nuisances, which are associated with user dissatisfaction and a risk to disease transmission. Yet, well-constructed, operated and maintained pit latrines isolate, store and partially treat human excreta thereby minimising contact and their inherent public health hazards. In spite of the known successes and advantages associated with pit latrines, they have received little attention inform of research and development. The wide spread application and use of pit latrines necessitates sufficient knowledge of their performance in order to develop, design and operate them better, thereby improving the sanitation situation of the users. This paper reviews previous and current knowledge on pit latrines usage and performance in urban areas of SSA. Knowledge gaps are identified and strategies or interventions that may improve the performance and sustainability of pit latrines are suggested. The performance elements covered in this review are pit latrine filling, smell and insect nuisances.
Methods
We undertook a comprehensive literature search according to PRISMAS guidelines [
13
], as shown in Fig.
1
, to find relevant documents both published and unpublished, with no date restriction (Fig.
1
). This was because the review covers past and present knowledge, on pit latrines. We searched Google (
http://www.google.com/
), Google scholar (
https://0-scholar-google-com.brum.beds.ac.uk/
) and Science Direct (
http://0-www.sciencedirect.com.brum.beds.ac.uk/
) using the following keywords: "pit latrine", "pit privy", "pit latrine performance", "Pit latrine + sanitation", "Pit latrine filling smell and insects", "pit latrine filling + sub-Saharan Africa" "pit latrine smell + sub-Saharan Africa", "pit latrine + mosquitoes", "Pit latrine flies + sub-Saharan Africa", "Sanitation policy + sub-Saharan Africa". The titles of retrieved articles were read to exclude duplication ahead of the screening process. During screening, the titles and abstracts of the documents were read to determine their eligibility of articles for full text assessment. In case of sanitation articles and reports, the complete document was obtained and scanned through to determine its eligibility. Documents selected for full text assessment were those that had information pour/flush to pit; ventilated improved pit latrines; pit latrines with concrete slabs; traditional latrines (pit latrines with slabs not made of concrete); pit latrines without slabs/open pits (as unimproved latrines). At full text assessment, the contents of the document were critically examined to identify information on the history of pit latrines (no restriction of location), their usage, topics that covered smell and insect nuisances (limited to SSA) and those were then considered relevant for the review. In addition, references in articles and reports guided further inquiry and review. Information from the selected articles was extracted and the findings were used to develop this review. A figure on pit latrine and sanitation development milestones was developed from dates sited in literature. The pit latrine usage in different countries across SSA was determined based on available WHO/UNICEF survey data on estimates on the use of sanitation facilities for the different countries of SSA [
14
] and the figures were then used to develop the map on pit latrines usage. The data source used for each country is indicated in Additional file
1
: Table S2.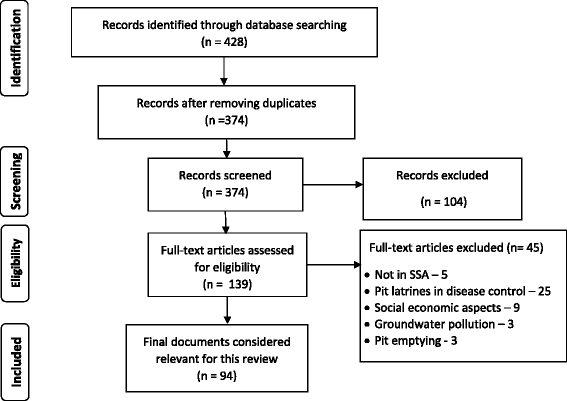 Conclusions
The pit latrine is a sanitation technology that has been in use for a long time and the design has evolved over time. The technology is used by majority of the people in SSA, while its use in the urban areas is currently on the rise. The current trend of usage shows adaptation of more improved designs. From this review, it can be deduced that the performance in pit latrines in terms of filling, smell and insects within urban areas is an issue that needs further investigation.
Future advances in pit latrine technology should focus on scientifically guided approaches to enhanced and sustainable sanitation. A precursor of understanding the content, environment, decomposition process, smell/ odour and insect composition is essential in predicting and favourably altering the conditions within the pit through technological novelty or process management. In addition, development, dissemination and enforcement of minimum pit latrine design standards for target groups is important while the importance of hygienic latrines should also be emphasized.
Declarations
Acknowledgements
This review has been carried out as part of research that is funded by the Bill and Melinda Gates foundation project through UNESCO-IHE partnership with Makerere University Kampala under "Stimulating Local Innovation on Sanitation for the Urban Poor in Sub-Saharan Africa and South-East Asia". Grant Number is OPP1029019.
Open AccessThis article is distributed under the terms of the Creative Commons Attribution 4.0 International License (http://creativecommons.org/licenses/by/4.0/), which permits unrestricted use, distribution, and reproduction in any medium, provided you give appropriate credit to the original author(s) and the source, provide a link to the Creative Commons license, and indicate if changes were made. The Creative Commons Public Domain Dedication waiver (http://creativecommons.org/publicdomain/zero/1.0/) applies to the data made available in this article, unless otherwise stated.
Authors' Affiliations
(1)
Department of Civil and Environmental Engineering, Makerere University, Kampala, Uganda
(2)
Department of Agricultural Production, Makerere University, Kampala, Uganda
(3)
Department of Environmental Management, Makerere University, Kampala, Uganda