Research article

Open Access

Open Peer Review
This article has Open Peer Review reports available.
Systematic review of reviews of intervention components associated with increased effectiveness in dietary and physical activity interventions
BMC Public Health
2011
11:119
Received: 20 July 2010
Accepted: 18 February 2011
Published: 18 February 2011
Abstract
Background
To develop more efficient programmes for promoting dietary and/or physical activity change (in order to prevent type 2 diabetes) it is critical to ensure that the intervention components and characteristics most strongly associated with effectiveness are included. The aim of this systematic review of reviews was to identify intervention components that are associated with increased change in diet and/or physical activity in individuals at risk of type 2 diabetes.
Methods
MEDLINE, EMBASE, CINAHL, PsycInfo, and the Cochrane Library were searched for systematic reviews of interventions targeting diet and/or physical activity in adults at risk of developing type 2 diabetes from 1998 to 2008. Two reviewers independently selected reviews and rated methodological quality. Individual analyses from reviews relating effectiveness to intervention components were extracted, graded for evidence quality and summarised.
Results
Of 3856 identified articles, 30 met the inclusion criteria and 129 analyses related intervention components to effectiveness. These included causal analyses (based on randomisation of participants to different intervention conditions) and associative analyses (e.g. meta-regression). Overall, interventions produced clinically meaningful weight loss (3-5 kg at 12 months; 2-3 kg at 36 months) and increased physical activity (30-60 mins/week of moderate activity at 12-18 months). Based on causal analyses, intervention effectiveness was increased by engaging social support, targeting both diet and physical activity, and using well-defined/established behaviour change techniques. Increased effectiveness was also associated with increased contact frequency and using a specific cluster of "self-regulatory" behaviour change techniques (e.g. goal-setting, self-monitoring). No clear relationships were found between effectiveness and intervention setting, delivery mode, study population or delivery provider. Evidence on long-term effectiveness suggested the need for greater consideration of behaviour maintenance strategies.
Conclusions
This comprehensive review of reviews identifies specific components which are associated with increased effectiveness in interventions to promote change in diet and/or physical activity. To maximise the efficiency of programmes for diabetes prevention, practitioners and commissioning organisations should consider including these components.
Keywords
Physical Activity
Physical Activity Intervention
Medium Quality
Diabetes Prevention Programme
Behaviour Change Technique
Background
The development of type 2 diabetes is strongly associated with being overweight, obese or physically inactive[1, 2]. Large randomised controlled trials (RCTs) have shown that relatively modest changes in lifestyle (increasing fibre (≥15 g/1000 kcal), reducing total fat (< 30% of energy consumed) and saturated fat (< 10% of energy consumed), engaging in moderate physical activity (≥30 mins/day), weight reduction (5%)) can reduce the risk of progression to type 2 diabetes in adults with impaired glucose regulation (also known as pre-diabetes) by around 50%[3–7]. In one study, achieving four or more of the above targets led to zero incidence of type 2 diabetes up to seven years later[8]. Consequently, promoting changes in physical activity and dietary intake is now recommended in national and international guidelines as a first line therapy for preventing type 2 diabetes[9–12].
A number of diabetes prevention programmes have been developed internationally (e.g. in Finland,[13] Germany,[14, 15] the US,[16, 17] Australia[18] and China[19]). However, national diabetes prevention strategies are still lacking in many countries. The cost-effectiveness of lifestyle intervention approaches for diabetes prevention is already well established and is favourable in comparison to pharmacological approaches[20–22]. However, most interventions used to date in a research setting are considered to be too intensive for widespread implementation in health services[23]. For example, the US Diabetes Prevention Programme[4] involved 16 individual counselling sessions plus individual coaching and a maintenance programme with further individual and group sessions. A major challenge for healthcare providers therefore is how to achieve the lifestyle changes needed to prevent type 2 diabetes (and its associated cardiovascular risk) without overstretching existing budgets and available resources[24, 25].
In translating the research evidence into practical programmes it is critical to ensure that the intervention components (i.e. behaviour change techniques and strategies) and characteristics (e.g. setting, delivery mode, intervention provider) most strongly associated with effectiveness are included.
We therefore aimed to systematically review existing systematic reviews to summarise the evidence relating the content of interventions for promoting dietary and/or physical activity change to their effectiveness in producing weight and behaviour change. The review focused on evidence relating to individuals at risk of type 2 diabetes due to lifestyle (e.g. inactivity) or clinical risk factors (e.g. overweight, elevated blood pressure).
Results
Searches identified 3856 potentially relevant articles. Following review of titles and abstracts, 96 articles were retrieved and quality-assessed. An additional 11 articles were identified through reference lists and grey literature. Of these 107 articles, 30 met both the selection and quality criteria (Figure
1
) and these are identified by an asterisk in the reference list[
30
–
59
]. The inter-rater reliability (Kappa) for applying review selection criteria was 0.71 (95%CI: 0.61 to 0.80), and the proportion for inter-reviewer agreement on review quality was 0.70 (95%CI: 0.55 to 0.85).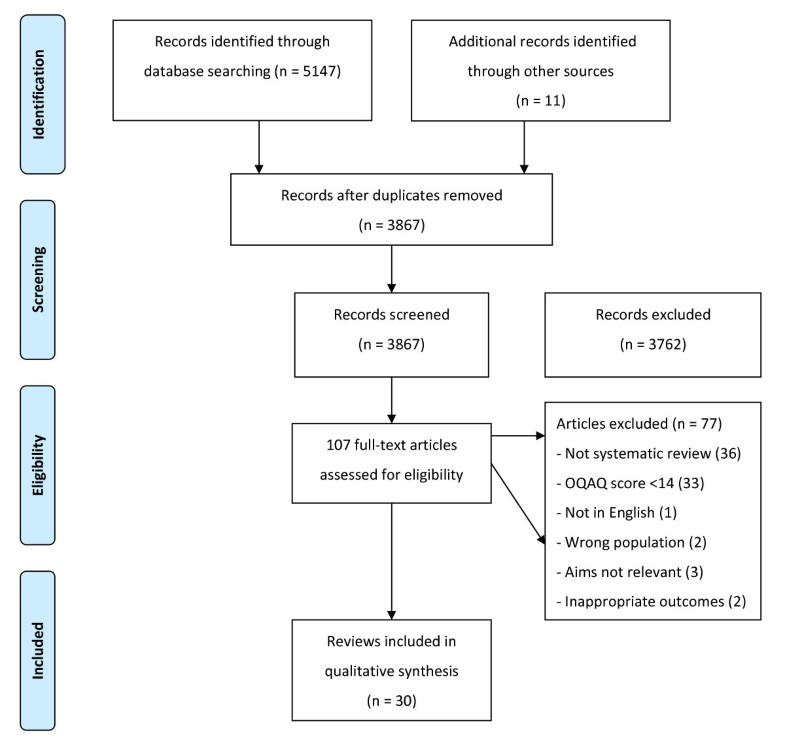 Discussion
This review has, for the first time, systematically identified, synthesised and graded a wide range of evidence about the relationship of intervention content to effectiveness in individual-level interventions for promoting changes in diet and/or physical activity in adults at risk of type 2 diabetes.
Interventions produced significant and clinically meaningful changes in physical activity (typically equivalent to 30-60 minutes of walking per week, for up to 18 months) and in weight (typically 3-5 kg at 12 months, 2-3 kg at 36 months). Greater effectiveness of interventions was causally linked (in meta-analyses and randomised trials which experimentally manipulated the use of these elements) with targeting both diet and physical activity, mobilising social support and the use of well-described/established behaviour change techniques. Greater effectiveness was also associated (in correlational analyses and non-randomised comparisons) with using a cluster of self-regulatory techniques (goal-setting, prompting self-monitoring, providing feedback on performance, goal review[62, 64]), and providing a higher contact time or frequency of contacts. However, with regard to intensity, the amount of clinical contact in interventions varied widely (see ranges reported above) and the evidence did not support the recommendation of any particular minimum threshold. The evidence on patterns of effectiveness over time[37] also suggested that there is a need for an increased focus on the use of techniques to support behaviour maintenance.
There were no clear associations between provider, setting, delivery mode, ethnicity and age of the target group and effectiveness. This (and evidence from a range of individual RCTs cited in the reviews examined) suggests that interventions can be delivered successfully by a wide range of providers in a wide range of settings, in group or individual or combined modes, and can be effective for a wide range of ethnic and age groups.
While the use of "established, well-defined behaviour change techniques" was associated with increased effectiveness, it is worth emphasising that individual techniques are rarely applied in isolation and should form part of a coherent intervention model. Therefore, a planned approach to intervention design is recommended, such as "intervention mapping",[65] or other systematic intervention development processes[66] which select intervention techniques to address targeted behaviour change processes (and that are tailored for the target population and setting).
Taken together, the findings suggest a number of recommendations for optimising practice in the development and delivery of interventions to promote changes in diet and/or physical activity and these are outlined in Table
2
. It is hoped that applying these findings will help to meet the growing need for less costly, but nonetheless effective, type 2 diabetes prevention programmes.
Table 2
Recommendations for practice
| | |
| --- | --- |
| A 1 | Interventions should aim to promote changes in both diet and physical activity |
| A | Interventions should use established, well defined behaviour change techniques (e.g. Specific goal-setting, relapse prevention, self-monitoring, see Table 1) |
| A | Interventions should encourage participants to engage social support in planned behaviour change (i.e. engage others who are important such as family, friends, and colleagues) |
| A | Interventions may be delivered by a wide range of people/professions, subject to appropriate training. There are examples of successful physical activity and/or dietary interventions delivered by doctors, nurses, dieticians/nutritionists, exercise specialists and lay people, often working within a multi-disciplinary team |
| A | Interventions may be delivered in a wide range of settings. There are examples of successful physical activity and/or dietary interventions delivered in healthcare settings, the workplace, the home, and in the community |
| A | Interventions may be delivered using group, individual or mixed modes (individual and group). There are examples of successful physical activity and/or dietary interventions using each of these delivery modes |
| A | Interventions should include a strong focus on maintenance. It is not clear how best to achieve behaviour maintenance but behaviour change techniques designed to address maintenance include: self-monitoring of progress, providing feedback, reviewing of goals, engaging social support, use of relapse management techniques and providing follow-up prompts |
| B | Interventions should maximise the frequency or number of contacts with participants |
| C | Interventions may consider building on a coherent set of "self-regulation" techniques, which have been associated with increased effectiveness (Specific goal setting; Prompting self-monitoring; Providing feedback on performance; Review of behavioural goals) as a starting point for intervention design. However, this is not the only approach available |
| C | No specific intervention adaptations are recommended for men or women, although it may be important to take steps to increase engagement and recruitment of men |
| D | If using established behaviour change techniques, a clear plan of intervention should be developed, based on a systematic analysis of factors preceding, enabling and supporting behaviour change in the social/organisational context in which the intervention is to be delivered. The plan should identify the processes of change and the specific techniques and method of delivery designed to achieve these processes. Such planning should ensure that the behaviour change techniques and strategies used are mutually compatible and well-adapted to the local delivery context. Following the procedures of the PRECEDE-PROCEED model [62], Intervention Mapping [61], or a similar intervention-design procedure is recommended |
| D | People planning and delivering interventions should consider whether adaptations are needed for different ethnic groups (particularly with regard to culturally-specific dietary advice), people with physical limitations and people with mental health problems |
Although providing a greater degree of depth with regard to intervention components, these findings are consistent with UK guidance for the prevention and treatment of obesity (which recommends engaging social (especially family based) support, and targeting both diet and exercise)[67]. The findings are also consistent with recent guidance from the American Heart Association[68] on the prevention of heart disease in adults aged over 18, which recommend the use of motivational interviewing as well as goal-setting, self-monitoring and a high contact frequency. Recent evidence-based guidance from the US Association of Diabetes Educators also recommends goal-setting, problem-solving (relapse prevention) and self-monitoring of plans (self-regulation) for supporting healthy eating and increased physical activity in people with type 2 diabetes[69]. Our findings may also be more widely generalisable to adults with diagnosed chronic disease (e.g. type 2 diabetes, heart disease) or to apparently healthy adults.
Strengths and limitations
Our review focused only on higher quality systematic reviews. We identified a substantial number of reviews which synthesised data from a large number of RCTs and other studies, in a wide range of age groups, clinical/risk groups and settings. Drawing together these findings in one place has generated a comprehensive, evidence-based overview of which intervention components are most likely to facilitate effectiveness.
However, several challenges affecting the synthesis and interpretation of the available evidence were encountered. One of the limitations most commonly cited by review authors was an inadequate description of behavioural interventions in the individual study reports. This causes difficulties for the reviewer in categorising intervention content and conducting subsequent analyses to relate content to effectiveness. We therefore suggest that future intervention study reports (and reviews of individual studies) use an appropriate taxonomy to describe (and categorise) behaviour change techniques[62]. A major limitation in assessing the utility of specific theories and techniques underpinning interventions is that techniques may not be implemented rigorously or may not faithfully represent the specified theories[62, 70]. Notably, none of the 30 reviews that we examined took intervention fidelity into account. Hence, the lack of an association between the use of a stated theory and effectiveness may reflect a lack of good theories or it may reflect poor implementation of theories. Other potentially important sources of bias include measurement issues (especially in relation to the use of self-report data); self-selection of intervention participants; and a failure to consider potential biases due to study quality in some reviews. Furthermore, it is worth noting that with associative evidence, other covariates than those analysed may account for the stated relationships (e.g. the association between intensity and effectiveness might be explained to some extent by lower quality of intervention being associated with lower intensity).
A further potential source of bias which no review accounted for was the low sample size contributing to some of the analyses examined. In particular, it is worth noting that, whilst our recommendation (Table 2) on the usefulness of social support technically merits a grade A (as it is based on level 1+ evidence from a meta-analysis of randomised controlled trials), the total number of participants contributing to the meta-analysis was only 127. If the grading system had taken sample size into account, we may have given this recommendation a lower grade. In interpreting the above information, it should be noted that the analyses considered were in many cases based on overlapping sets of trials (and other studies). It should also be noted, as this is a review of reviews we were not able to synthesise or meta-analyse data from individual studies, which may have yielded valuable evidence. It is also worth noting that at the time of the literature search there were no high quality reviews on the use of internet-based interventions, so no evidence is presented in this area.
Implications for practice and policy
Our review has generated clear recommendations on how interventions for promoting lifestyle change within diabetes prevention programmes could be developed or refined to maximise effectiveness (Table 2). Our recommendations go considerably beyond the data on basic effectiveness presented in trials and systematic reviews of diabetes prevention programmes to date[3–8]. They can be useful, for example, in guiding the translation of effective, high-intensity/high resource-use interventions in research contexts into lower-cost (yet still effective) interventions for implementation in clinical practice.
Directions for future research
More rigorous evaluations of the effectiveness and cost-effectiveness of specific intervention components and clusters of techniques for promoting and maintaining change in diet and physical activity are needed. This will require experimental and theoretically driven manipulation of intervention components in well-powered and high-quality trials. Intervention studies need to provide careful descriptions of the hypothesised causal processes for achieving behaviour change and the specific techniques used to modify these processes. Trials should include process analyses to establish the validity or otherwise of the causal models proposed. Research is urgently needed to compare the cost-effectiveness of interventions with different providers, intervention modes and intensities (using clear and consistent conceptualisations of intensity and attempting to disentangle the different elements of intensity such as contact time, number of contacts and contact frequency). This should include the evaluation of remotely delivered and/or self-delivered (e.g. internet-based) approaches and other approaches that might provide high effectiveness for lower cost. Research is also needed to establish the impact of the intervention setting on effectiveness; to optimise intervention procedures for different ethnic, age and gender groups; to establish effective techniques for improving recruitment to interventions (and to address gender imbalances); and to assess the possible adverse affects of dietary and physical activity interventions.
Conclusions
Interventions to promote changes in diet and/or physical activity in adults with increased risk of diabetes or cardiovascular disease are more likely to be effective if they a) target both diet and physical activity, b) involve the planned use of established behaviour change techniques, c) mobilise social support, and d) have a clear plan for supporting maintenance of behaviour change. They may also benefit from providing a higher frequency or total number of contacts.
To maximise the effectiveness of intervention programmes to promote changes in diet and/or physical activity for diabetes prevention, practitioners and commissioning organisations should carefully consider the inclusion of the above components.
Declarations
Acknowledgements
Funding: European Commission Community Action Programme for Public Health (Project 2006309); South West General Practice Trust; National Institute for Health Research. The views expressed in this publication are those of the authors and not necessarily those of the funding bodies.
We would also like to thank Rod Taylor, Tiffany Moxham, members of the Society for Academic Primary Care (SAPC), the Psychosocial Aspects of Diabetes (PSAD) Study Group, Denise de Ridder, Stanton Newman and Robert M Kaplan, who provided useful commentary.
This review was conducted to inform the behaviour change section of a European Union guideline on the prevention of diabetes http://www.image-project.eu.
Authors' Affiliations
(1)
University of Exeter, Peninsula Medical School, Exeter, UK
(2)
University of Sussex, School of Psychology, Falmer, UK
(3)
University of Cambridge, General Practice and Primary Care Research Unit, Cambridge, UK
(4)
Heinrich-Heine University, Institute for Clinical Diabetology, German Diabetes Centre and Department of Metabolic Diseases, Düsseldorf, Germany
(5)
University of Plymouth, Peninsula Medical School, Exeter, UK
(6)
Technical University of Dresden (Carl Gustav Carus Medical Faculty), Medizinische Klinik III, Dresden, Germany
(7)
International collaboration group, led from Technical University of Dresden, c/o Prof Peter Schwarz, Medizinische Klinik III, Dresden, Germany
Copyright
© Greaves et al; licensee BioMed Central Ltd. 2011
This article is published under license to BioMed Central Ltd. This is an Open Access article distributed under the terms of the Creative Commons Attribution License (http://creativecommons.org/licenses/by/2.0), which permits unrestricted use, distribution, and reproduction in any medium, provided the original work is properly cited.