Study protocol

Open Access

Open Peer Review
This article has Open Peer Review reports available.
Systematic Development of the YouRAction program, a computer-tailored Physical Activity promotion intervention for Dutch adolescents, targeting personal motivations and environmental opportunities
BMC Public Health
2010
10:474
Received: 8 July 2010
Accepted: 11 August 2010
Published: 11 August 2010
Abstract
Background
Increasing physical activity (PA) among adolescents is an important health promotion goal. PA has numerous positive health effects, but the majority of Dutch adolescents do not meet PA requirements. The present paper describes the systematic development of a theory-based computer-tailored intervention, YouRAction, which targets individual and environmental factors determining PA among adolescents.
Design
The intervention development was guided by the Intervention Mapping protocol, in order to define clear program objectives, theoretical methods and practical strategies, ensure systematic program planning and pilot-testing, and anticipate on implementation and evaluation. Two versions of YouRAction were developed: one that targets individual determinants and an extended version that also provides feedback on opportunities to be active in the neighbourhood. Key determinants that were targeted included: knowledge and awareness, attitudes, self-efficacy and subjective norms. The extended version also addressed perceived availability of neighbourhood PA facilities. Both versions aimed to increase levels of moderate-to-vigorous PA among adolescents. The intervention structure was based on self-regulation theory, comprising of five steps in the process of successful goal pursuit. Monitoring of PA behaviour and behavioural and normative feedback were used to increase awareness of PA behaviour; motivation was enhanced by targeting self-efficacy and attitudes, by means of various interactive strategies, such as web movies; the perceived environment was targeted by visualizing opportunities to be active in an interactive geographical map of the home environment; in the goal setting phase, the adolescents were guided in setting a goal and developing an action plan to achieve this goal; in the phase of active goal pursuit adolescents try to achieve their goal and in the evaluation phase the achievements are evaluated. Based on the results of the evaluation adolescents could revise their goal or choose another behaviour to focus on. The intervention is delivered in a classroom setting in three lessons. YouRAction will be evaluated in a cluster-randomized trial, with classes as unit of randomization. Evaluation will focus on PA outcomes, cognitive mediators/moderators and process measures.
Discussion
The planned development of YouRAction resulted in two computer-tailored interventions aimed at the promotion of PA in a Dutch secondary school setting.
Trial registration
NTR1923
Keywords
Physical Activity
Leisure Time Physical Activity
Physical Activity Behaviour
Performance Objective
Change Objective
Background
Sufficient physical activity (PA) contributes to the prevention of a range of conditions such as overweight and obesity, cardiovascular diseases, cancers, depression and low bone mineral density [1, 2] and is associated with improved quality of life [3, 4]. However, physical activity levels are low in most Western countries, across all phases in the life course, including adolescence. The most recent Dutch PA recommendations are that adolescents should engage in moderate to vigorous PA (MVPA) for at least one hour per day to promote cardiovascular and general health, and to engage at least twice a week in vigorous PA to help enhance and maintain physical fitness, including flexibility, muscular strength and bone health [5]. In the Netherlands approximately one quarter of the adolescents comply with the MVPA norm [6]. These figures demonstrate that there is a need for physical activity promotion interventions for adolescents and that large numbers of adolescents need to be reached with such interventions. Since there are not many PA promotion interventions available that meet these requirements, we developed a new and innovative e-health promotion intervention.
A planned approach to intervention development is likely to increase the effectiveness of interventions [7], given that it assures an optimal fit with the most important determinants of the targeted behaviour, inclusion of behaviour change strategies that fit with those determinants, and a delivery format that is appealing and suitable for the target population [8]. E-health promotion interventions using a web based delivery format may have specific advantages; (1) the format may be appealing for adolescents and (2) it can be used to tailor interventions to unique characteristics of a person [9, 10], which is likely to increase intervention attractiveness, personal relevance and effectiveness. Classically, most tailored interventions focused on cognitive individual determinants of health behaviours such as awareness, attitudes and self-efficacy. Socio-ecological models, however, also suggest an influence of environmental factors, on behaviour, including factors in the physical environment [11, 12]. To take these environmental factors into account we incorporated tailored feedback on the opportunities to be physically active in the neighbourhood in which adolescents live in the intervention, which is a novelty in the field of tailoring research.
To evaluate the additional effect of this environmental information, two versions of the computer-tailored intervention were developed. Both interventions are identical, and provide personalised feedback on individual determinants and change processes, whereas the extended version in addition provides feedback on the availability of PA opportunities in the home environment.
In the first part of this paper we describe the results of the systematic development of the intervention following the intervention mapping (IM) protocol for goal directed, theory and evidence based development of interventions. In the second part we describe the evaluation protocol.
Methods/Design
Intervention development
The IM protocol describes six steps, in the process towards development of a theory-driven and evidence based intervention [
8
] (Figure
1
). IM has successfully been applied in the development of interventions on promotion of a wide range of health behaviours/health states, including the prevention of overweight and obesity in adults [
13
] and adolescents [
14
,
15
] and promotion of physical activity in adults [
16
]. Below the results of each step in IM, which formed the basis for the two versions of the intervention, are described.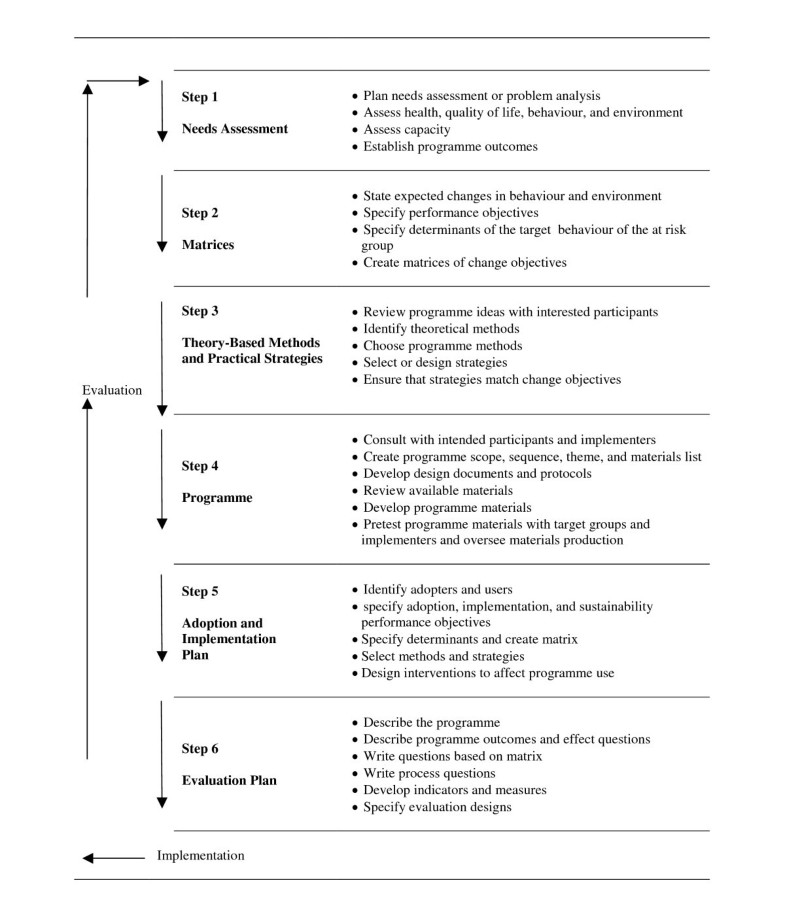 Evaluation study
Interventions
The efficacy of the regular and extended version of the computer-tailored intervention will be evaluated against an Internet delivered intervention that provides generic information about physical activity and nutrition. All three interventions have the same graphical design and lay-out and they all consisted of three lessons. The lessons will be given by teachers who are provided with a teacher manual, as a guide for using the program.
Aim of evaluation study
The aim of the evaluation study is to evaluate achievement of the intervention goals that have been stated during the intervention development process. Furthermore, the aim is to identify whether changes in the outcome measures were mediated through changes in the underlying processes. Therefore, effects of the interventions on behavioural determinants, on PA behaviour and mediation of intervention effects by targeted determinants will be studied. The main outcome measures are compliance to the PA guidelines, time spent in PA and specific sub-behaviours and behavioural determinants. Additionally, the intervention will be evaluated on the process level on acceptability and implementation of the intervention.
The main research question to be answered is whether 10% more adolescents in the intervention groups, as compared to the control group, comply with the MVPA norm at six months post intervention.
Evaluation design
The YouRAction intervention will be evaluated in a three-armed cluster-randomized trial, with school classes as the unit of randomization, using computer aided block-randomization with a block size of 9. In each arm, 17 classes with on average 22 respondents per class will be needed to detect a 10% difference in compliance with the MVPA norm at six months post intervention (alpha = 0.05, power = 0.80, ICC = 0.02, %compliance with norm in control group = 15% (observed from baseline measurements of the ENDORSE study [
18
])). Measurements will take place at baseline (T0) (September/October 2009), one month post intervention (T1) (October-December 2009) and 6 months post intervention (T2) (April-June 2010) (Table
4
). Questionnaires will be administered at each time point. A randomly selected subsample of 10% of the participants will be asked to wear ActiGraph GT3X accelerometers, on each time point, to objectively assess PA. Height and weight (to calculate Body Mass Index) and waist circumference will be assessed among a random selection le of 40% of the participants at T0 and T2. Random selection of those participating in the additional measurements will be done by using a random ranking system, in which the first ranked adolescents in each class were picked for the additional measurements. Random selection will be separate for the accelerometer usage and anthropometric measurements.
Table 4
Evaluation design
T0

T1

T2

Timepoint

Baseline

Sept-Oct 2009

1 month post intervention

Oct-Dec 2009

5-6 months post intervention

April-June 2010

Demographics

Gender, age, education, ethnic background

Outcome measures

Self-reported PA

Objectively measured PA

Body Mass Index

Waist circumference

Self-reported PA

Objectively measured PA

Self-reported PA

Objectively measured PA

Body Mass Index

Waist circumference

Determinants

All

All

All

Process evaluation

No

Yes

No
The Medical Ethics Committee of Erasmus University Medical Center provided a declaration of "no objection" for this study.
Measurement
Self-reported PA, will be measured by means of the AQuAA [39] and a sixty-minute screening measure for moderate to vigorous physical activity [40]. Secondary outcomes will include objectively assessed PA, by means of ActiGraph accelerometers and objectively assessed BMI and waist-circumference.
Determinants
Of all adolescents demographic information on age, gender, education and ethnic background will be collected. Adolescents will fill in a questionnaire at T0, T1 and T2 on cognitive determinants of MVPA, sports, walking, cycling and leisure time physical activity. The cognitive determinants assessed will include those determinants targeted in the intervention: awareness, attitudes, perceived behavioural control, subjective norm and intention, action planning and the perceived physical environment.
Process evaluation
Additionally at T1, a process evaluation will be conducted, to assess the intervention on acceptability, feasibility and implementation from the teacher's and adolescent's point of view. Teachers will be stimulated to fill in a log book on how much time each lesson took them in preparation and when they gave the lesson. Furthermore they will be stimulated to fill in an online questionnaire on their experiences with using the intervention.
In some classes research staff will observe intervention implementation and make notes of their observations. Furthermore server logs will be analyzed to detect how often en when the intervention was used.
Participants
Participants will be recruited in a two-step procedure. First, schools will be recruited by contacting health coordinators of schools. Second adolescents within the selected schools were recruited. School classes are eligible if they are first year classes, with the main language during teaching being Dutch. These schools should be located within the area of the Municipal Health Services Rotterdam and surroundings. All adolescents in the selected classes will be invited to participate. We will use a passive informed consent procedure, meaning that, after being fully informed about the study, its purpose and its procedures, the adolescent and/or their parents could refuse to participate.
Discussion
The planning process that we described in this study has resulted in an extensive, novel, PA promotion intervention for adolescents that can be implemented in a school setting. Theory and evidence based development of interventions increases the likelihood of an intervention to be effective [7]. The present paper contributes to providing more insight into the systematic development of interventions and a more proper and detailed description of the behaviour change methods and strategies used, as has recently been called for [41].
Although this intervention is developed based on theory and evidence, its effectiveness still needs to be evaluated in an evaluation study. Moreover, there is little known about the efficacy of computer tailored interventions among adolescents. Evidence from our evaluation study will provide information on the efficacy of the intervention, potential mediating and moderating mechanisms and the added value of improving awareness of PA facilities in the environment. In addition, the study will provide insight in appreciation and implementation possibilities for the intervention in a school setting.
One of the novelties of this intervention is the incorporation of environmental feedback in a computer tailored intervention. This is a novelty for adolescents, but has successfully been applied in a tailored intervention in adults by van Stralen et al. [16]. Van Stralen et al. [16] send maps on opportunities to be active on paper to respondents of her intervention. This approach was found to be effective [42, 43]. However, the Active+ intervention did not give instant, interactive feedback on opportunities to be active using tailored online maps. In our pretest it turned out that adolescents do have skills to work with GoogleMaps. Therefore we think that the incorporation of GoogleMaps to a computer-tailored intervention in adolescents is feasible and potentially effective.
Intervention Mapping was a useful tool in developing the YouRAction interventions, however, one of the main limitations was that the protocol is not clear in how to deal with complex behaviours like physical activity, in which various sub-behaviours can be chosen to achieve one overall goal. The aim of our intervention, increasing MVPA, could be reached by improving active transport, engagement in sports and leisure time activities - or in a combination of activities. However for each activity other determinants, change objectives and methods and strategies may be important. In order to be able to do so, we decided to create separate matrices of change objectives for each sub-behaviour, which enabled us to state specific change objectives for each sub-behaviour and select the appropriate methods and strategies to meet the change objectives. The technique of computer tailoring furthermore facilitated the development of a program consisting of such a flexible program. In fact, big parts of the interventions were tailored to the adolescents' selection of a PA sub-behaviour. However, creating programs which are too complex may need more tailoring algorithms, which may have negative impact on the speed of the program.
To conclude, the development of YouRAction based on the Intervention Mapping protocol resulted in two theory and evidence based computer-tailored interventions with innovative elements like the incorporation of GoogleMaps. An evaluation study has to provide insight into the efficacy of the basic and extended intervention and will provide evidence for the additional effect of the provision of environmental feedback for computer-tailored PA interventions. If the evaluation study proves that the interventions are effective, two well-developed interventions will become available for the promotion of PA among adolescents.
Declarations
Acknowledgements
This study was financially supported by a grant from ZonMw, The Netherlands Organization for Health Research and Development (grant ID no 7110.0003)
Authors' Affiliations
(1)
Department of Public Health, Erasmus University Medical Center, Rotterdam, The Netherlands
(2)
EMGO Institute for Health and Care Research and the Department of Epidemiology & Biostatistics, VU University Medical Center, Amsterdam, The Netherlands
Copyright
© Prins et al; licensee BioMed Central Ltd. 2010
This article is published under license to BioMed Central Ltd. This is an Open Access article distributed under the terms of the Creative Commons Attribution License (http://creativecommons.org/licenses/by/2.0), which permits unrestricted use, distribution, and reproduction in any medium, provided the original work is properly cited.